FAQ's
How do I pick-up my tickets to Raging Waters for the ducks I adopted?
Starting at 11 AM on the day of the event, there will be a table near the entrance of Raging Waters to pick-up your tickets. Park opens at 11 AM, half-day tickets are valid starting at 2 PM. These tickets allow entry to Raging Waters only for the day of the event. Please bring proof of ID to pick-up your tickets, you may NOT pick-up for others.
What is the Quick Quack Car Wash VIP area?
The Quick Quack Car Wash VIP area includes FREE food (hot dogs, pizza, chicken tenders), drinks (water, soda, beer), ice cream sandwich AND the full-day use of the private cabanas on the island inside the lazy river area. Adopt 30+ ducks and all that is included, FREE! Water and soda available all day, beer served 12 PM – 4 PM, food served at 1:30 PM, ice cream sandwiches served at 3 PM.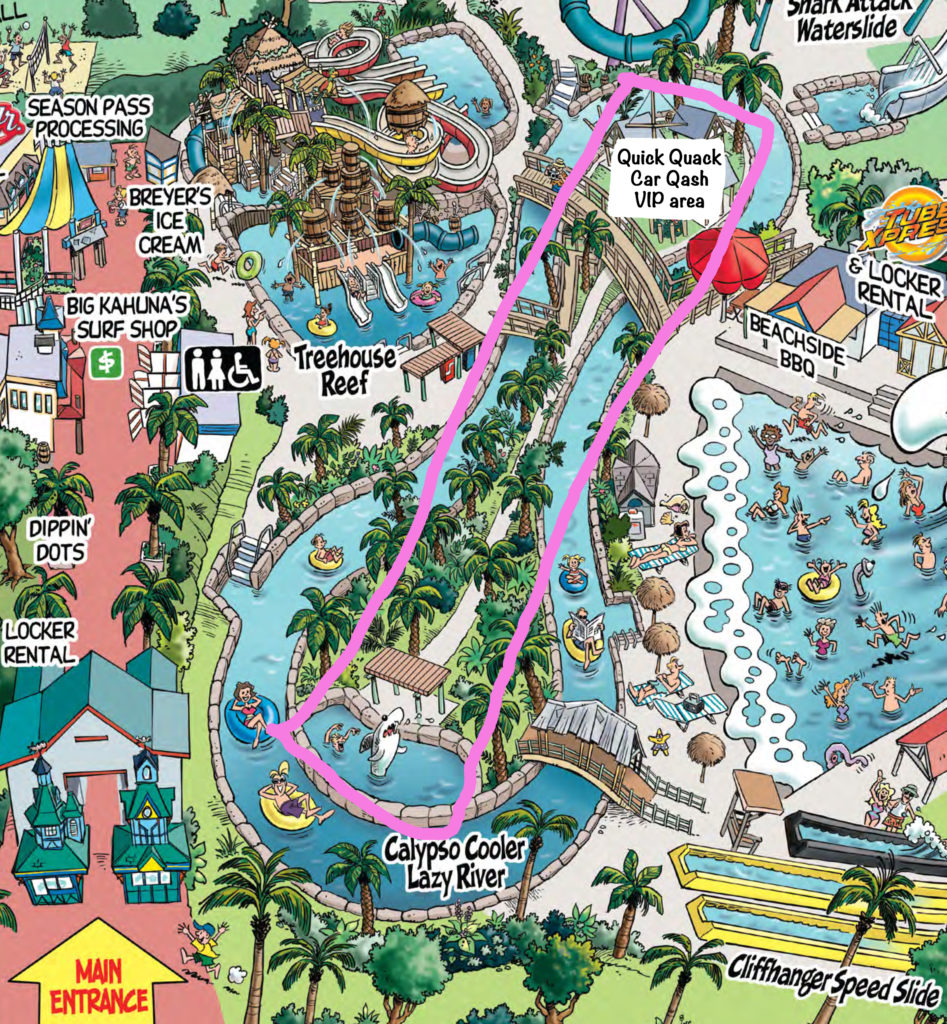 Is there a reserved area inside the park for duck adopters?
YES! All duck adopters will have exclusive full-day use of the Calypso Cooler Island. One end will be the Quick Quack Car Wash VIP area, the other end of the island is open to all duck adopters and has plenty of shaded space PLUS a 12-18″ kiddie/sitting pool and shark fountain. Island is highlighted in pink in image above.
Is parking at Cal Expo free?
Parking at Cal Expo is free AFTER 4 PM. If you'd like to enter the park earlier, you will need to pay for parking ($10).
Can I watch The Duck Dash for FREE?
Yes! You can park for free at Cal Expo and enter Raging Waters for free starting at 4 PM the day of the event.
Can I keep the ducks I adopt?
Because our ducks are specially trained racing ducks and we use them year after year, they remain in our care after the event.
Do I have to be present to win?
No, each duck is numbered and assigned for tracking so we will contact winners via phone and/or email.